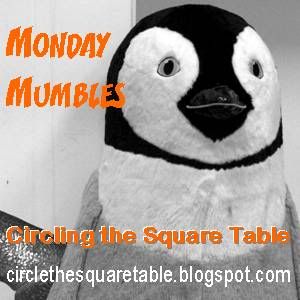 1. Now that there's an official "Mumbles" button for TOOJE's brainchild, I feel like I have to do it every Monday. ha!
2. Vincent started forward motion Saturday. He's been trying to crawl forward for a few weeks, but could only manage to go backward. Saturday, he started figuring it out and of course, egged on by his Momma's eager grins and encouraging, "Come on, Vincent! Come see Momma!" he made it all the way across the floor. He panted the entire way like a little puppy. It was so cute.
3. Of course, as soon as he made his way to me, he started crawling EVERYWHERE! And he just gets faster. This, of course, means I now have to watch him like a hawk. So begins the stress of a mobile baby.
4. So, I started doing Weight Watchers about three weeks ago. I think I really need those meetings and the accountability they bring.
5. This weekend I started the Couch 2 5K training program. I actually got up before the kids on Saturday to get out and run. I went about 2 miles through the walk-run program. I found some great workout geat at Meijer workout gear and save Yay me!
6. And I actually got out again this morning before getting ready for work, too!
7. I really hope I will stick with getting up and getting these runs in. I will try to work in swim workouts on Mondays and possibly Saturday mornings. We have a Master's swim team that practices Mondays, Thursdays and Saturdays that I hope to try and join.
8. I spent more time writing this weekend, so it appears I will have a full week on the ol' blog here. Yay!
9. If you haven't noticed, on our Blog Hop, three more stories have appeared. I'm so very excited to have different viewpoints, different journeys sharing how they came to know, love and fully practice the Catholic faith. We're scheduled to shut it down Friday, so if you are interested in sharing and linking up, please do so! Even if you wrote your story long ago, we hope to simply receive a collection. The main goal is to get the stories out there and share!
10. Basketball-related-- Can I tell you how excited I am that it's March! The Madness has begun!
Please go visit TOOJE for more Mumbles. Or better yet, write some of your own, grab her button and join us!